Back to Articles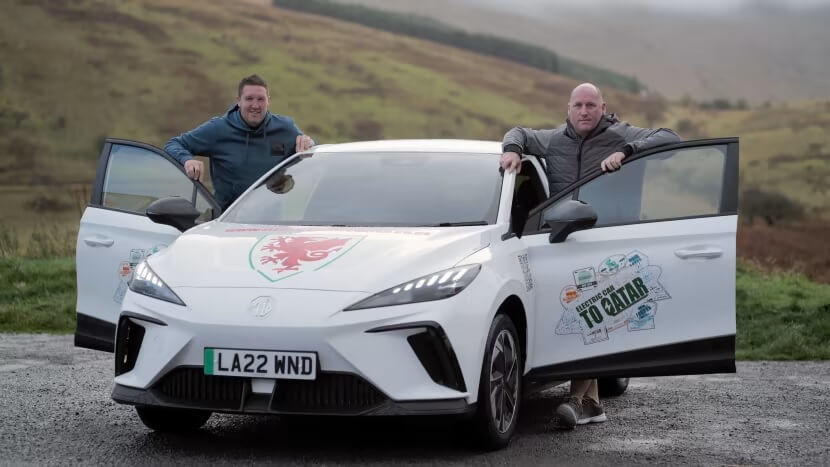 Electric car to Qatar
In a bid to raise awareness of sustainability issues, along with their love of football, a group of friends decided to journey from Cardiff to Qatar in an MG4 EV. Could they get all the way?
Can electric vehicles go the distance?
Broadcast on Good Morning Britain, a group of friends from Wales embarked on an electric car adventure to Qatar.
The group of friends took on a one of a kind journey, driving 5,000 miles, across 17 countries to Qatar in an electric vehicle. Within the company of friends was Scott Young, a former professional footballer who played for Cardiff City and the Welsh under 21 national team. The group had gained the support of the Welsh national team and regularly facetimed the team to show their progress, jokingly saying that Gareth Bale didn't think they would make it.
Great news for EV drivers
When asked by Richard Madeley about recharging the vehicle, Nick Smith commented "Through Europe, no problem at all. The infrastructure is plentiful and quite regular." However, "It was going to be an issue in Saudi Arabia but unfortunately we didn't get that far." The group went on to say how they managed ok with charging and the lowest they came to in battery percentage was 3%, which was due to broken charge points.

End of the line
The journey was going well until they were forced to finish their journey via plane, after Saudi Arabia refused the entry of the electric vehicle due to being a right handed vehicle. The group were welcomed to Qatar by the Welsh national team, which they visited at their hotel. However, most importantly, they will get to enjoy seeing their international team play the USA in their opening game of the World Cup 2022.
Going the distance
Although this was a great adventure for the group of friends, it shows how far the world has come in terms of electric vehicles. Even when faced with unavailable public charge points, the group were able to find themselves with charge at all times. For anyone with range anxiety or concerned about the public infrastructure, this is something that should bring you confidence. For shorter journeys, keep topped up at home with Charge Wizard, here you can view our range of charge points.
For more information on the groups adventure, see the full details of their journey at https://electriccartoqatar.com/