Back to Articles

Regulations: electric vehicle smart charge points
The installation volumes of charge points have been growing at an exponential rate since July 2020. February 2022 witnessed ~13,500 new charge point installations across the UK. These numbers only include charge points installed with grant funding.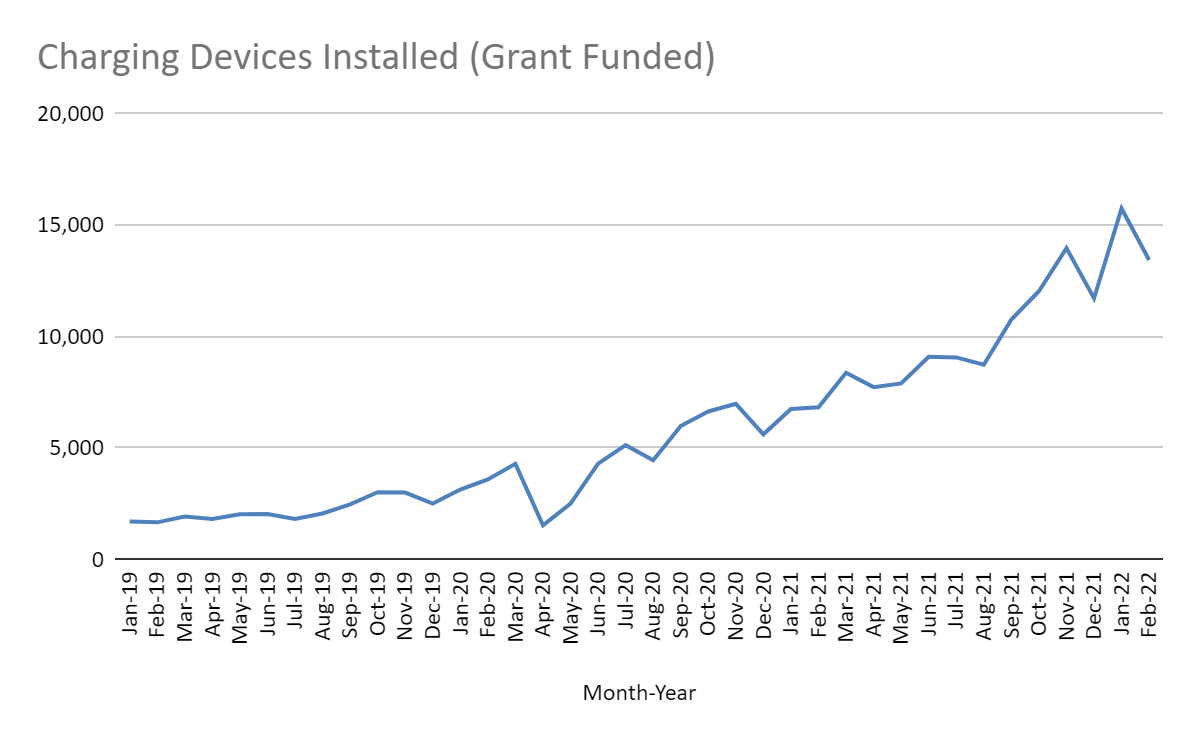 In addition to this, ZAP MAP report the following volumes for public charge points - last updated: 31st July 2022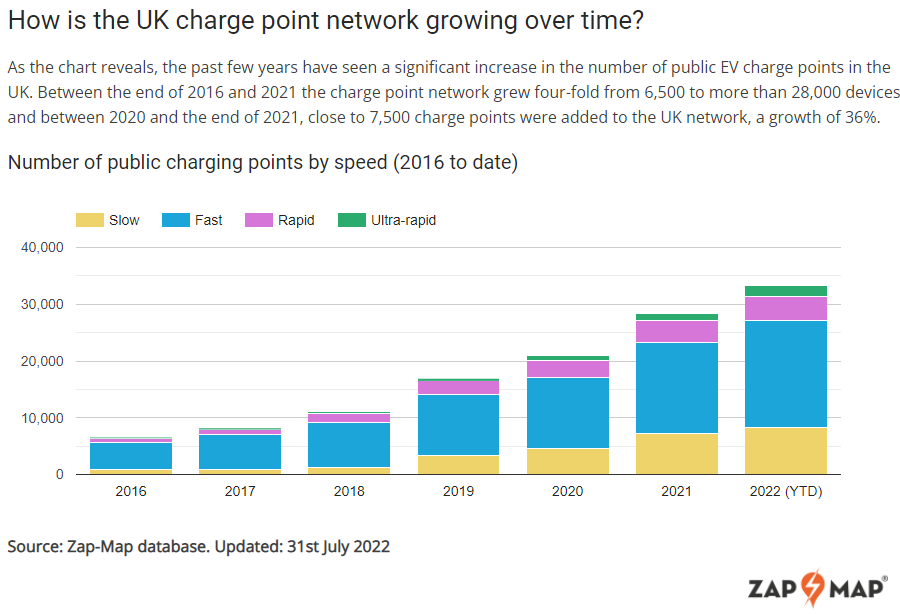 The chart above also breaks down the number of charging devices by speed or power rating over the past six years. The four speeds or power ratings that are tracked are defined as slow (3-6kW), fast (7-22kW), rapid (25-99kW) and ultra-rapid (100kW+).
Resource: https://www.zap-map.com/statistics/#points
So far this year, the volume of public charge points has increased by 17%. This is great news for EV drivers and we hope to see this growth continue. With that in mind, we must be aware of the increase in electricity demand. To support the demands, DNOs are managing the networks and looking at ways to increase distribution. However, this process requires time. Enter the latest regulation updates.
With effect from 30th June 2022, all new private charge point installations will be subject to the following changes:
Smart functionality
There are charge points already installed with smart functionality. However, this is now a requirement. Manufacturers need to ensure that their devices have the ability to send and receive information. Charge points are also expected to be able to respond to signals and increase the rate of electricity flow through the charge point. This would include peak demand restrictions to avoid blackouts.
Electricity supplier interoperability
Smart functionality must be maintained, even if you change your electricity provider.
Continued operability
It is recognised that not all connections are 100% stable. Charge points must be able to continue to charge your vehicle, even if it ceases to be connected to a communications network.
Safety provisions
To reduce the health and safety risk to you and others, Charge points must prevent a person from carrying out an operation which could risk their health and safety.
Measuring system
Charge points must have the ability to measure or calculate the electricity supply consumed or generated, whilst in use. This information must also be visible to you.
Security requirements
Charge points must comply to the existing cyber security standard ETSI EN 303 645
Charge points must also:
Incorporate pre-set, off peak, default charging hours. At the point of installation, you will have the options of accepting the default settings, changing the default settings or removing the default settings. Changes can also be made at any point after the installation.

To protect the grid, charge points must allow for a randomised delay in which your vehicle will start charging.
As these changes came into effect 30th June 2022, the regulations do not apply to private charge points which are:
sold in Northern Ireland

sold before 30th June 2022

not intended for use within Great Britain at any time

sold by individuals outside of the purposes of their trade, business, craft or profession (for example, second-hand sales made between private individuals)

non-smart cables or rapid charge points

intended for use as public charge points (but these may be subject to the requirements of the Alternative Fuels Infrastructure Regulations 2017)
You can find a full outline of device-level requirements here
Further information regarding the compliance can be found on the link below
Reference:
https://www.gov.uk/guidance/regulations-electric-vehicle-smart-charge-points