Back to Articles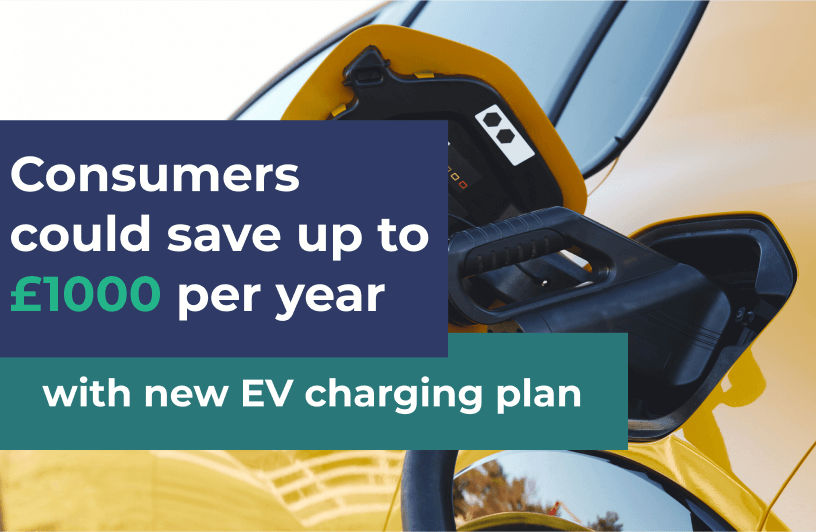 Save up to £1000 per year charging your EV at home
Charging your EV at home could see electric vehicle owners benefit from lower energy bills and cheaper motoring thanks to a landmark plan to unlock the potential of smart electric vehicle charging.
New plan sets out steps to unlock the potential of smart electric vehicle charging, including allowing motorists to power their homes using the electricity stored in their electric vehicle

electric vehicle drivers could save hundreds of pounds each year while cutting emissions by smarter charging of their electric vehicles

bill payers without electric vehicles will also benefit from a more sustainable, secure and efficient electricity system

projects, including a street lamp post capable of charging electric vehicles and selling power back to the grid, will receive a share of £16 million funding
Electric vehicle owners could see savings of up to £1000 on their energy bills and lower costs for driving, by connecting their EV to their home, due to a plan that aims to optimise smart electric vehicle charging.
The Electric Vehicle Smart Charging Action Plan, published by the government and Ofgem, sets out the steps that government and Ofgem will take to deliver energy flexibility from electric vehicle (EV) charging, providing affordable, green power. The actions cover 3 categories:
Making smart charging the affordable, convenient choice for EV owners:
Increasing confidence in smart charging and providing appropriate protections for a positive experience
Providing the right business landscape for electric vehicle smart charging products:
Regulations, standards and innovation for safe goods and services that give EV owners choice, and work for the charging market and energy flexibility
An energy system ready for electric vehicle smart charging:
Accessible tariffs and flexibility services that incentivise smart charging, plus energy system data and tools / measures in place to plan, incentivise and manage risks arising from EV flexibility, in the context of wider energy retail, network and market changes
With the latest energy innovations and energy use data, smart charging can deliver significant benefits to electric vehicle owners. EV owners will be able to charge their EV at home when electricity is cheaper or cleaner and even power their homes through their electric vehicle. If that's not enough, EV owners could choose to sell the energy back to the grid for profit.
To further back this up, the government has also announced £16 million in funding from the Net Zero Innovation Portfolio (NZIP). The funding will be invested in technologies that harness the potential of smart charging such as, smart street lamp posts and projects which will enable domestic appliances, heat pumps, electric vehicle charge points and batteries to integrate into a smarter energy system.
Energy and Climate Minister Graham Stuart said:
"We want to make smart charging an easier choice for drivers of electric vehicles, whether that is charging on the driveway, at the workplace, or parked on the street. To do that we need to build new network infrastructure at pace, using the latest available technologies."
"Today's plan sets out how we will work with Ofgem and industry to kickstart the market for smart charging, which we are backing up with £16 million in innovation funding. This will let people take control of their energy usage, in the most convenient and low-cost way."
Ofgem Director for Strategy and Decarbonisation Neil Kenward said:
"As energy regulator, we're helping create the infrastructure to deliver Britain's net zero future at the lowest cost to customers. This latest innovative plan will help to maximise the benefits of smart charging, offer vital savings to consumers and reduce the overall cost of energy by seizing the opportunities to use batteries to both power homes and fuel the wider grid."
Today's announcements build on the major steps already taken by the government to enable smart and flexible electric vehicle charging. As of July 2022, all new charge points sold for private use must have smart functionality and as of January 2023 must meet the latest standards in cyber security.
The government intends to enhance access to information and data on smart charging, establish consumer service standards, and ensure the security and compatibility of private charge points with new energy technologies.
The implementation of smart charging will benefit all EV owners by lowering electricity costs, reducing the cost of charging electric vehicles, and promoting cleaner and more sustainable energy sources.
Efforts will be made by the government and Ofgem to eliminate obstacles hindering the growth of a competitive and diverse smart charging market, while ensuring the energy system is prepared for the increased energy demand from electric vehicles.
The usage of smart charging has the potential to result in significant savings for drivers, with an average driver potentially saving up to £200 annually and high mileage drivers potentially saving up to £1000 annually, by shifting the power demand of electric vehicles to off-peak periods, such as from 4pm to 9pm in the winter evenings. By optimising the alignment of energy generation and usage on the power grid, smart charging can contribute to lowering electricity prices for all consumers.
The implementation of the steps outlined in the Action Plan will make smart charging a common practice in households and workplaces by 2025. It is the goal that by the late 2020s, smart charging will also become widely adopted at public charging stations for longer duration charges, such as on-street locations or transportation hubs.
Charge Wizard is dedicated to providing the optimal experience for EV charge point installations by ensuring that you have all the necessary information when selecting a charge point that fits your needs. Whilst the infrastructure is not yet ready, it is clear that the UK is making great progress in developing a future for EV. However, responsibility lies on manufacturers too as the vehicles need to be capable of feeding energy back to the grid. Until then discover how we can assist you in your EV journey by exploring our selection of charge points.